Vacation Deal: A Week in Reykjavík, Iceland for $695!
Since I search flight, hotel, tour, activity, etc. deals basically every single day, I decided why not share with all of you! I'll be posting travel deals that I find on here everyday!
Today's Vacation Deal
With the launch of budget airline, WOW Air, traveling to Iceland has been such a fad lately. And luckily a pretty affordable one. Aside from the famed Northern Lights, Iceland and Reyjavík have so much to offer. You can find yourself relaxing at the Blue Lagoon, immersed in music at Harpa, bargaining away at the Reyjavík weekend flea market, and much more! Also, the weather will be a bit warmer in April, averaging at about 40 to 45 degrees Fahrenheit.
So with this deal you and a friend can fly from Los Angeles to Reykjavík and stay at an awesome Airbnb for a $695 each! The dates are April 20, 2017 - April 27, 2017.
Flight Details
A roundtrip flight from Los Angeles to Reykjavík is only $310 a person on WOW Air. Just a reminder that WOW Air is a budget airline. This means that you'll be paying extra for a checked bag, a 2nd carry on, a meal, etc. But, hey who said you can't wear 5 sweaters and 3 pairs of pants onto the plane?
Accommodation Details
For $94 a night you'll get Jón's place, listed on Airbnb, all to yourself! It's centrally located on one of the main shopping streets in Reykjavík, has 4th floor views on the ocean and mountains, and is equipped with wifi. And of course Jón's place and Jón have awesome reviews!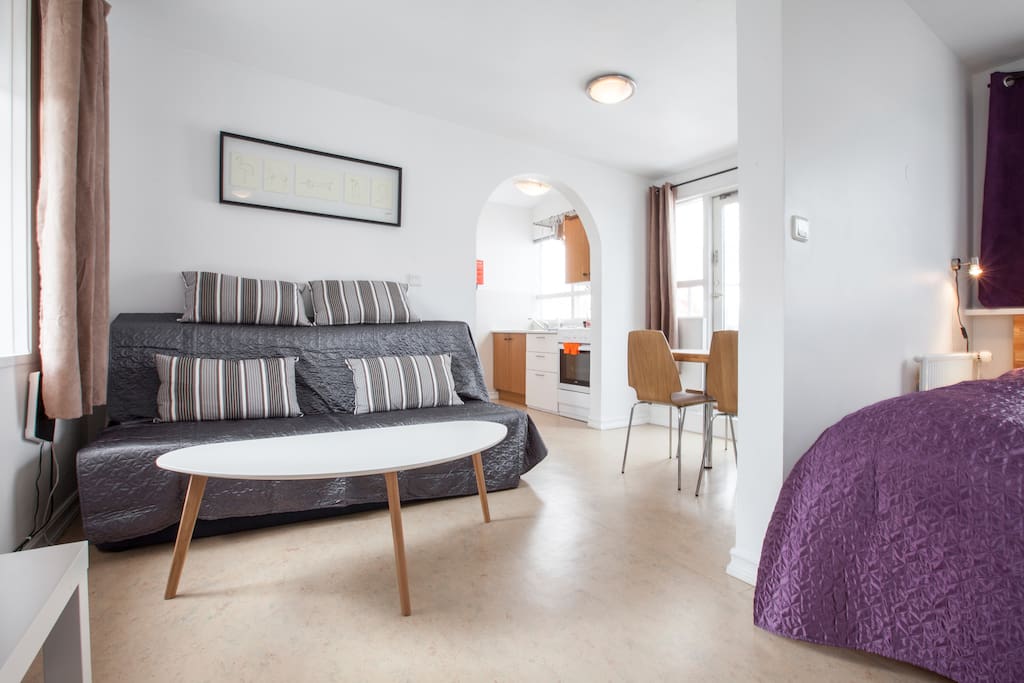 Studio Apartment in City Center
Reykjavík, Iceland, Iceland
Nice top floor apartment located at the main shopping and restaurant street. Good cooking and dining area, bathroom with a shower, and a balcony. Cozy centrally located flat, your key for a nice stay.